Hanoi - VPBANK HANOI MARATHON
Hanoi
30/03/2022 - 21:00
The streets surge with scooters vying for right of way amid the din of constantly blaring horns, and all around layers of history reveal periods of French and Chinese occupation – offering a glimpse into the resilience of ambitious, proud Hanoians.
Negotiate a passage past the ubiquitous knock-off merchants and you'll find the original streets of the Old Quarter. Defiant real-deal farmers hawk their wares, while city folks breakfast on noodles, practise t'ai chi at dawn on the shores of Hoan Kiem Lake, or play chess with goateed grandfathers.
Dine on the wild and wonderful at every corner, sample market wares, uncover an evolving arts scene, then sleep soundly in a little luxury for very little cost. Meet the people, delve into the past and witness the awakening of a Hanoi on the move.
SIGHTS IN HANOI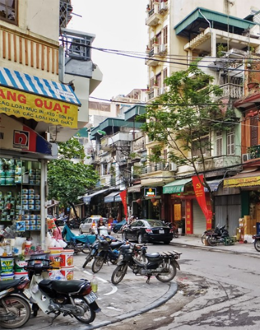 Hanoi's Old Quarter: The 36 Streets
Alternatively called Hanoi's Old Quarter, Ancient Quarter, or just simply 36 Streets, the Old Quarter of Hanoi is a must-see for anyone visiting Vietnam. Located at the northern end of Hoan Kiem Lake, the Old Quarter is the home of most the economical hotels, tourist shops, and cafes in Hanoi.
The Old Quarter is truly old: people have called Hanoi home continuously for more than 2,000 years, and the Old Quarter is the first area settled by humans. Most of Vietnamese history and culture has unfurled from the location of the Old Quarter. Unlike other cities with "old towns", which by-and-large have become nothing more than souvenir shops and cheap tourist attractions, Hanoi's Old Quarter is still the vibrant centre of life in Hanoi. With people on the street by 5:30 a.m., and restaurants opening by 6:00 a.m., the hustle-and-bustle of the Old Quarter doesn't really start to slow down until 9:30 at night.
The 36 streets that make up the Old Quarter are all named for the type of good or serve they used to sell there. There are streets named for bamboo, silk, silver, medicine, shoes, fans, chickens, and even coffins. This method of naming the street after goods or services goes back to the days when craftsmen would work together in guilds to produce and sell their wares. Even today, walking through the Old Quarter, you might come across an entire block of nothing but paper makers, tinsmiths, or tailors.
Attractions in the Old Quarter:
Many of Hanoi's major attractions are within or nearby the Old Quarter, including Hoan Kiem Lake, Hanoi Opera House, National Museum of Vietnamese History, Ba Dinh Square, a former Governor-General of French Indochina's mansion, the One Pillar Pagoda, Bach Ma Temple, Thang Long Water Puppet Theatre and Dong Xuan, Hanoi's largest market.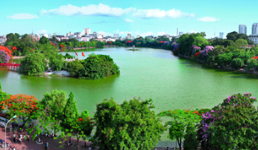 Hoan Kiem Lake and Ngoc Son Temple: Hoan Kiem Lake, which means "Lake of the Returned Sword", is named after a tale that a Golden Turtle God lent Emperor Le Loi a magical sword to help him protect the country. Hoan Kiem Lake is where Le Loi gave back the sword to the God after peace was restored. A large soft-shell turtle is a spiritual icon of the Hanoians. In the heart of the lake lies a Turtle Tower which is small and ancient, adding to the lakes charm. At a nearby green park, you can see many locals come to hangout, play music, paint, play chess and so on.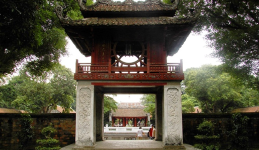 Temple of Literature (Van Mieu Quoc Tu Giam): The first national university in Vietnam, the Temple of Literature is often cited as one of Hanoi's most picturesque tourist attractions. Originally built as a university in 1070 dedicated to Confucius, scholars and sages, the building is extremely well preserved and is a superb example of traditional-style Vietnamese architecture.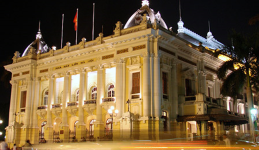 Hanoi Opera House: One of colonial Hanoi's most iconic edifices, the Hanoi Opera House was built by the French in the first decade of the 20th century as an Indochinese twin to Paris's Palais Garnier. Today it hosts traditional and modern performances by Vietnamese and international musicians and dancers and is home to the Vietnamese National Opera and Ballet. Public tours are not offered, only ticket-holding guests can enjoy the ornate architecture inside. You'll find an English-language performance schedule on the website (www.ticketvn.com). Shows begin at 8:00 p.m., and tickets generally start at around VND 200,000.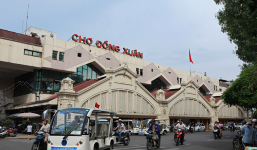 Dong Xuan Market: Dong Xuan Market was originally built by the French administration in 1889 and has been renovated many times up to now. It is a covered market where wholesale traders sell clothes, household objects and trivial things. The market is a great place for visitors to buy souvenirs and unique handicrafts.
St. Joseph's Cathedral (Nha Tho Lon Ha Noi): The oldest church in Hanoi, St. Joseph's Cathedral is the first building of French colonial government in Indochina. Built in Gothic Revival (Neo-Gothic) style, the church has a mysterious look. The cathedral is located in the end of Nha Tho (Church) Street, near numerous restaurants and small apartment blocks.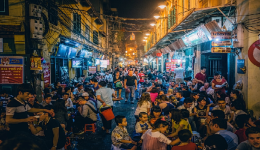 Nightlife in the Old Quarter:
Other parts of Hanoi might quiet down at night but the Old Quarter is where night owls head to. Live music, discos, clubs and bars as well as decent karaoke joints are the norm here. Though the numbers might be limited compared to other large Asian cities, what's on offer here is well enough to keep people from all walks of life happy and university students, office staff and expats are among the friendly crowds.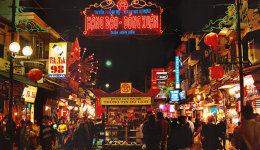 Ta Hien street: Ta Hien Street is known as the first street where the majority of foreign tourists set foot on when coming and before leaving Hanoi. Therefore, everyone is familiar to call Ta Hien Street with the name "Pho Tay".
The cordial handshake, blooming cheery laughter, words of praising, and cheers "without borders", or even just a small whistle at midnight, well enough to create a cultural beauty in "Pho Tay". And moreover, if travelers need, the troupe of troubadours ready to serve guests on the spot. Fragrant smell of grilled squid, hot steaming from boiled cassava and corn stalls selling create warmth under cold weather. It made a really charm to guests. All are lively and full "nature of the sidewalk".
Night Markets: The most famous night market of Hanoi is the Old Quarter market which is held in the evening on Fridays, Saturdays and Sundays. You can buy anything from winter coats to summer shorts, a whole range of accessories and delicious street food such as grilled pork or spicy breadstick at very cheap prices.
Location: The market is quite large, stretching from Hang Dao Street to Dong Xuan Market.
Street art in the Old Quarter:
If you're interested in Vietnamese traditional performance, Hanoi Old Quarter is the best place for you to experience the old treasures.
Head to the Bach Ma Temple to listen to Xam singing, Ca tru, Chau van, etc.: In the dynastic time, Xam was usually performed by blind artists wandering from town to town to make their living. Ca tru, a geisha-like form of performance, is a kind of chamber music performed by female vocalists. Chau van is a folk art combining singing and dancing, it's a combination of music, poetry, rhythms, pauses and different tempos.
Location: Bach Ma temple – 76 Hang Buom Street
Dao Duy Tu Street, Ma May Street, Hang Giay Street, Luong Ngoc Quyen Street: Street artists perform instrumental music that combines traditional and modern material.
The crossroad of Luong Ngoc Quyen Street and Ma May Street: Artists perform traditional music reconstituting the Mother Goddess Worship, a very popular belief of Vietnam that has been recognized by UNESCO.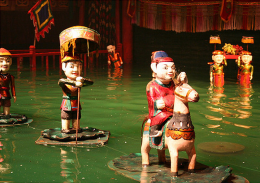 Water Puppet Theatre in Hanoi: The world-famous Thang Long Water Puppet Theatre in Hanoi has its roots in an art form that dates back to the 11th century. The tradition of water puppet theatre stems from a time when rice paddy fields were flooded and villagers would make entertainment by standing in the waist-deep water with the puppets performing over the water. Using large rods to support the puppets it appeared as if they were moving across the water with the puppeteers hidden behind a screen.
Location: Thang Long Water Puppet Theatre – 57B Dinh Tien Hoang Street
Shopping in the Old Quarter:
Hanoi Old Quarter is a shopping heaven for the younger Hanoians since it offers numerous unique kinds of cloth, handicrafts, souvenirs and so on at reasonable prices. Here are some high spots around Hanoi's Old Quarter for you to shop till you drop:
Hanoi night market (Hang Dao Street – after 7:00 p.m. every Fri, Sat, Sun): Clothes, textiles, accessories and tons of street food
Dong Xuan Market (Dong Xuan Street): Everything. Yes they sell everything here.
Hang Da Market (Hang Da Street): leather and fur clothes
To Ngoc Van Street (9-12 a.m. every Saturday): Cooking spices
Hang Dau Street: Sneakers for both men and women
Dinh Tien Hoang Street: Shoes
Hang Gai Street: Fabric, especially silk
Cau Go Street: Handicrafts, lacquer bamboo and carved bamboo
Hang Buom Street: Cake, Vietnamese fruit jam and wine
Hang Can Street: Books
Nha Tho Street (Church Street): wine and other alcohol drinks
Ly Thai To Street: Luxurious goods
Le Thai To Street: Art Galleries
Trang Tien Plaza (Hang Bai Street): Clothes.
Dining in the Old Quarter:
Hanoi is a street food wonderland. Follow almost any lane in this vivid, motorbike-clogged city and you will find a cacophony of food stalls with colorful signs shouting the names of mysterious Vietnamese dishes. Behind them, scores of people slurp, munch, drink and chatter, huddling on the city's iconic miniature plastic stools.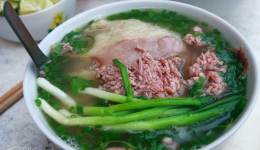 Pho: Pho is the classic Hanoi food, and possibly one of the best food Hanoi offers. Let's just say you don't want to miss this aromatic soup, filled with slices of beef, rice noodles and a plateful of fresh herbs.
Our recommendations:
Pho Gia Truyen: 49 Ban Dan Street
Pho Thin: 13 Lo Duc Street
Chicken Pho: 1 Hang Dieu Street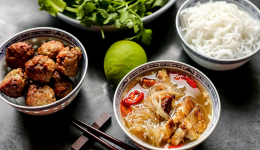 Bun Cha: Bun Cha is a northern Vietnamese food that quickly became our favorite. It is one of the best Hanoi food specialty not to be missed.
The dish consists of grilled pork strips and balls or cha served over a bed of rice vermicelli noodles or bun. It typically comes with a plate of fresh Vietnamese herbs and a bowl of dipping sauce. Pickled vegetables, like cabbage, carrots, onion or green papaya served with additional meatballs on the side.
Our recommendations:
Bun Cha Huong Lien: 24 Le Van Huu Street in Hai Ba Trung District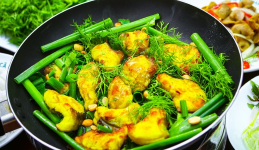 Cha Ca: Cha Ca is one of the unique specialties of the Hanoi people and definitely a must eat in Hanoi. So important is this local specialty, that it even has a street named after it – Cha Ca street. The special ingredient in Cha Ca is grilled fish, typically mudfish or snake-head fish. According to the restaurant, the best fish to use Hemibragus, because it has fewer bones and tasty flesh.
Our recommendations:
Cha ca La Vong: 14 Cha Ca Street
Vua Cha Ca: 26C Tran Hung Dao street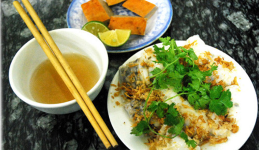 Banh cuon: Banh cuon is made of a thin rice sheet rolled and filled with ground pork meat and minced mushrooms. It is served with fried shallots and cilantro herbs on top. The secret flavor of this Hanoi food resides in its dipping sauce. As with most Vietnamese dishes, Nuoc Mam of fish sauce is used in the dipping sauce.
Our recommendations:
Banh cuon Thanh Van: 12 Hang Ga Street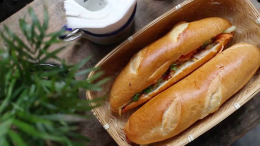 Banh mi (Vietnamese baguette): Vietnamese baguette is made with a combination of wheat and rice flours with a thin crispy crust. It is stuffed with pork, pâté, cured ham, a mélange of Vietnamese herbs and vegetables like coriander, cucumber, carrot, slices, radish and more depending on what part of the country you are in. A wealth of textures and flavors, you will savor spicy, salty, savory, sweet, and aromatic tastes in each bite.
Here are our recommendations on several addresses to get good banh mi:
Banh mi 25: 25 Hang Ca Street
Bami bread: 98 Hang Bac Street, 88B Tran Hung Dao Street, 1B Tong Dan Street.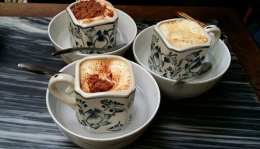 Vietnamese coffee: Vietnam is crazy about coffee. Finding a good coffee in Hanoi is easy, but for something that is truly different – and decadent – try "ca phe trung", or egg coffee. This deliciously eggy concoction is airy and creamy, poured over strong espresso or iced coffee.
Our recommendations:
Egg coffee: Café Giang, 39 Nguyen Huu Huan Street
Cafe Pho Co: 11 Hang Gai Street
OTHER ATTRACTIONS
Ngoc Son Temple
This island-temple, towards the northern end of Hoan Kiem Lake, is worth a detour - it can be reached via a picturesque footbridge. Inside, look for the preserved remains of a giant turtle, measuring 2.1m, which was captured in the lake. The temple was founded in the 14th century, although its buildings date from the 18th.
Nha Tho
Hanoi Cathedral's twin towers and Gothic arches elicit understandable comparisons with Paris' Notre Dame Cathedral. Nha Tho (also known as St Joseph's Cathedral) is smaller and greyer and in need of restoration; nevertheless, it cuts a striking figure. The interior is even more magnificent. Enter the grounds through the gate and look for the door on the left side of the church (Pho Nha Chung side).
Tran Quoc Pagoda
On the eastern shore of West Lake, this is one of the oldest pagodas in Vietnam. The current structures are very impressive and date back to 1842. The pagoda is just off the road that divides West Lake and Truc Bach Lake.
Ho Chi Minh's Vestige In The Presidential Palace Area
Add: No.1 Bach Thao, Ba Dinh, Hanoi; Tel: +84 08044529, Fax: +84 08043064. Open 7:30-11:00 a.m., 2-4 p.m. in the summer, and 8-11 a.m., 1:30-4:00 p.m. in the winter. Closed Monday and Friday afternoons. Admission VND 15,000.
The exit from the mausoleum takes you right into the grounds of the, uh, vestige, where Ho Chi Minh lived and worked from 1954 until his death in 1969. The nicely landscaped complex includes two of Ho Chi Minh's houses, kept shiny and "as he left them" by the authorities, as well as a garage with two of Ho's cars and a carp-filled pond. The Presidential Palace is also nearby, but it's not always open to visitors. Pamphlets are available in English, Chinese, French, and Korean. Guided tours are usually available if you wait.
Fine Arts Museum (Bảo Tàng Mỹ Thuật)
Add: 66 Nguyen Thai Hoc Street. Entry is VND 40,000 dong.
Only party-approved art is shown here and there is no information in English and only little in Vietnamese. But it is an interesting museum at any rate, with pieces such as the wonderful pictures of soldiers on boats depicted on prehistoric bronze drums, Buddhist art, and revolutionary art of the 20th century wars. Also some interesting silk paintings.
Army Museum (Bảo Tàng Quân Đội)
Dien Bien Phu Street. Admission VND 20,000.
Vietnam's military history extends back some two millennia, and this museum covers it on four buildings with interesting pieces. Legends on museum exhibits are in Vietnamese, French and English. On display outside are the ubiquitous MiG-21 jet fighter, T-54 tank and many bombs and articles captured on Indochina and Vietnam wars.
Air Force Museum (Bảo Tàng Không Quân)
Truong Chinh Street (southwest of the city center).
There's a decent outdoor collection of Soviet-built MiG fighters, a huge Mi-6 helicopter, and other aircraft; unfortunately they've been exposed to the elements for some time and local kids climb over them.
National Museum of Vietnamese History (Bảo tàng Lịch sử Việt Nam)
Add: No. 1, Trang Tien Street (Admission VND 15,000/Students VND 8,000 and under 15 just VND 2,000. VND 15,000 for a camera; VND 30,000 for a video). Hours: 8:00-11:30 a.m. and from 1:30-4:30 p.m.
This is a collection from Vietnamese history from about 1000 years back until 1945. Many antiques and such. From 1945 onwards, you can go to the Museum of the Vietnamese Revolution located just a five minute walk away.
Museum of the Vietnamese Revolution (Bảo tàng Cách mạng Việt Nam)
Add: 25 Tong Dan Street (and 216 Tran Quang Khai Street) Open every day except Monday, from 8:00-11:45 a.m. and from 1:30-4:15 p.m. Admission VND 10,000.
This museum gives a very informed and detailed account of the Vietnamese struggle against first the French (starting in 1858 – on the first floor), then against the Americans (on the ground floor - ending on 30 April 1975).
Hoa Lo Prison ("The Hanoi Hilton")
Add: 1 Hoa Lo Street, Hoan Kiem, Hanoi. Open 8:30-11:30 a.m. and 1:30-4:30 p.m., admission VND 5,000.
This prison was built by the French at the turn of the 20th century, in classical French prison design. This is where the French imprisoned and executed many of the Vietnamese freedom fighters. The prison was also used to hold U.S. prisoners of war. Now a museum (2/3 of the prison was torn down to make way for the Hanoi Towers), the museum exhibits the brutal French colonial regime and the struggle of the Vietnamese people against imperialism in chilling detail.
Hidden Hanoi
Add: 137 Nghi Tam Road (aka Duong An Duong Vuong), Tay Ho, Hanoi.
Located on the bund road in the Tay Ho district, Hidden Hanoi runs walking tours and cooking classes. There are many options, but the 1 hour walking tour of the local market, followed by the 3 hour cooking class, was a foody's delight (approximately USD 50 per person). Cooking Class menus change daily, and there are other walking tours available. They also run language classes, and there is a dance school in the same building.
Vietnam Culinary School
Located right in the heart of Hanoi Administration Departments, the Vietnam Culinary School welcomes you to a fantastic food centre place where you will discover and experience the culinary wonders of truly Vietnam Cuisine. The Culinary Class has fully equipped facilities offering you the chance to put your hand to practicing Vietnamese Cuisine. A typical day will commence with a visit to the morning market. Accompanied by an instructor, you will learn to select and buy Vietnamese ingredients for your personal cooking lesson. The class will be followed by a meal in a delightful restaurant sampling your own cooking as well as traditional Vietnamese dishes. Contact: hanoiculinaryclass@gmail.com for more details.
PLACES TO VISIT AROUND HANOI
The Ha Long Bay tour— Staying overnight in a boat on the breath-taking Ha Long Bay (or in a hotel on Cat Ba Island) is the most popular side-trip from Hanoi.
The Perfume Pagoda is an ancient Buddhist pilgrimage site about 60 km southwest of Hanoi. A full-day excursion involves a boat trip, hiking up a mountain, and visiting various temples and grottoes.
Bat Trang is a village world-famous for its pottery, 9 km southeast of Hanoi. It is accessible by taking Bus 47, which originates at Long Bien. Just hop on (the bus will be clearly labelled with the number 47 and the text "Long Bien - Bat Trang"; bus fare is VND 7,000/one-way and take it to the last stop, which is directly opposite the pottery market (haggle for lower prices, and insist on paying in Dong). Head back up the street to the factories to see artists at work.
Cao Bang, featuring the beautiful Ban Gioc waterfall, is five hours away by bus, near the Chinese border.
The Cuc Phuong National Park is the largest national park in Vietnam, and an easy day-trip from Hanoi.
The northern village of Sapa, is home to ethnic minorities, gorgeous mountain scenery, and trekking paths connecting many tiny mountain villages, is also a popular two or three day trip. It is accessible by train (to Lao Cai) followed by a minibus link to the town. The trekking paths have no signs, so a hiring a guide is well-advised.
Tam Coc/Hoa Lu: Located in Ninh Binh province, this day trip is a combines heritage tourism and natural landscape tourism. Hoa Lu is the site of the first capital of Vietnam in the 10th century, and was home to two kings – Dinh Bo Linh (Dinh Tien Hoang) and Le Hoan – there are now two shrines dedicated to these two kings. About 30 mins away from Hoa Lu is Tam Coc [three grottoes] – also known as Halong Bay on land. It features karst landforms surrounded by padi fields, and is accessed by little wooden boats. Boats are for hire at USD 3.5/trip, which takes about one hour. This is an excellent alternative to Halong Bay for those who have short attention spans, as the boat trip takes a mere hour versus Halong Bay boat trips, which take 5 hours - 2 days. One minor annoyance involves peddlers on boats hawking their wares, and your boat rower trying to sell you embroidery. Trip can be booked in Hanoi backpacker cafes at about USD 20.